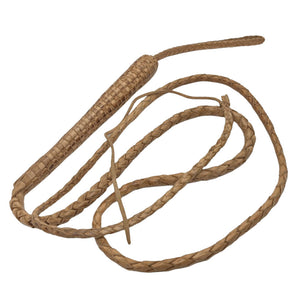 Handmade Leather Bullwhip
Regular price
$106.00
Test VAT
Sale price
$155.00
Unit price
per
This exquisite handcrafted leather bullwhip is an instrument of chastisement for the experienced Mistress or Master.
Its handle and tail are one continuous woven element constructed from strong naturally pale tanned leather. The whip's long firm handle is topped with a beautiful plaited wrist loop and its long, intimidating tail is finished with a length of saddlery leather thong.
 The whip is 268cm long from its handle to the end of its thong cracker (not including wrist loop)
If your feel you need to "crack the whip" to make your submissive partner obey your command then this is the implement for you.
Only one available
---
Share this Product
---