Leather Behind Closed Doors
Part of our Leather Loves series with contributing editor Mike Adler
Corsetiere Sian Hoffman found a leather niche through her love of fetish that has had the worlds most affluent stylists and magazines feature her products. Loved by a loyal list of Dominatrix and Erotica boutiques—It's this accidental fusion of her artistry and the fashion scene that I look behind closed doors to discover her passion and appreciation for her internationally renowned luxury erotica labels—Sian Hoffman and The Model Traitor.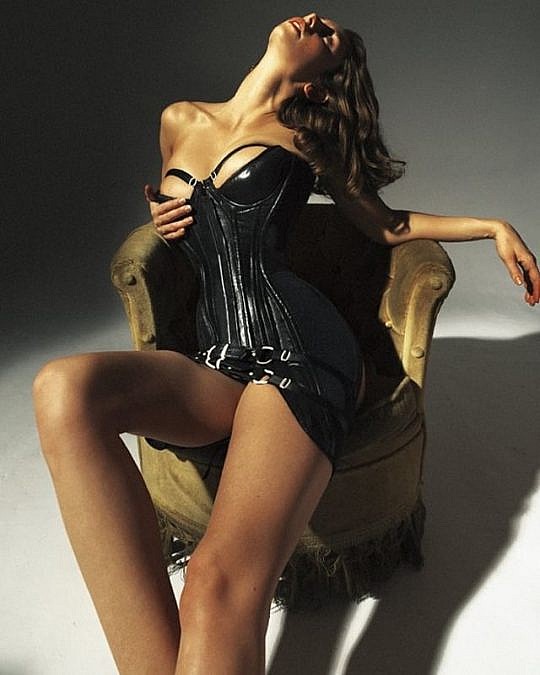 One of the things I love the most about fashion, is the ability to break barriers, push boundaries, and to discover and create. Throughout my career I have reinvented my style many times, but none more than being challenged to perfection by the world's most Iconic photographer Ellen Von Unwerth and famed photographer Rankin. Each with there own unique approach to photography, many of our most successful images have been—with intimate styling or as I call it, dressing for skin or nude. Revealing the models silhouette with the subtle styling of fashion undertones.
When the body is on show, it is my responsibility to respect the comfort of the model whilst inspiring confidence. To ensure that the model is correctly supported, I spend much of my time sourcing high quality pieces, that are perfect in technical design, craftsmanship and construction—elevating the look for a superior, sophisticated image. Throughout this journey I have come to know and rely on elite brands and bespoke artisans—lingerie designers and corsetieres who I trust with my work. It has also introduced me to the design world within BDSM—Bondage and Discipline, Dominance and Submission—which is progressively used as inspiration in fashion shoots, music videos, red carpet and catwalk collaborations.
Introduced to Sian through her then PR, her incredible pieces were perfect for a shoot within a Nude book by RANKIN. A collection of bespoke corsets, waist corset, cuffs and neck pieces enabled me to style the shoot with an elevated edge and elegance beyond many other commercial lingerie suppliers. Following this success, Sian very kindly created a number of bespoke corsets and leather wares for various shoots as well as private clients of mine, in the United States and Europe—for their own personal wardrobes.
The quality of her work and the passion for her art was instantly recognisable to the strong independent woman behind her brand—which leads me to her story of beginning with her younger self.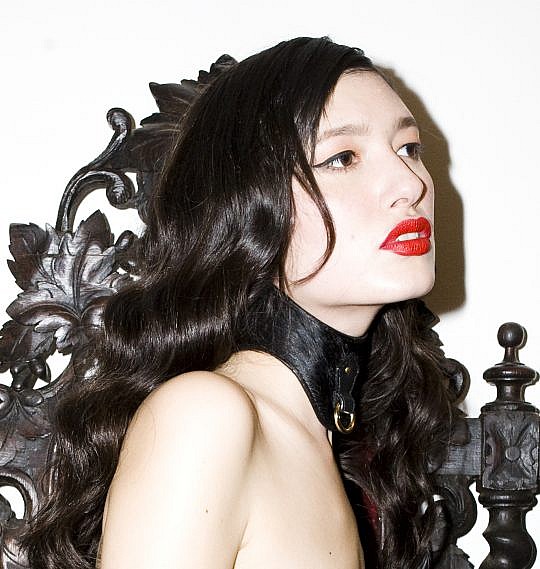 As an alternative fashion student, Sian was talked out of studying costume by her university lecturer but felt challenged in taking a mainstream fashion path. Finding inspiration in the London Soho magazine and book shops, it was the fetish subculture magazine Skin Two that had her travelling in to London each issue to make its purchase.
Intrigued by the fetish photo shoots, her interests in corsets grew into experimentation—and at the age of 19 she traded her studies for experience, joining the sales team of a well known Soho fetish store famous for stocking leather whips, cuffs and sadist accessories.
Admiring the corset and its ability to physically distort the body, which tells of 'giving an internal feeling of strength and persona—like wearing a costume'—unable to afford to purchase a corset, Sian made her own—with the store becoming the first to stock her duchess satin and silk corsets. Through strong sales and the many stylist requests, this gave confidence in her ability towards a full fetish design collection.
A lover of leather for its smell, tactical form, durability and longevity—and wanting to give her (now) many clients the ability to re condition the piece after each use, Sian began to produce leather corsetry, with fine buttery Nappa leather, her first—a slave girdle with a detachable neck collar and power mesh—complete with heavy duty hand and ankle cuffs, became the template for a full collection of leather corsets and waist corsets. Built up with corsetry coutil lining and steel boning, the addition of metal rings and d rings, attached from the inside—the wearer could then be bound to the corset by the many leather designed cuffs, chokers, collars, whips, floggers and leads now produced in her full luxury bondage diffusion line The Model Traitor.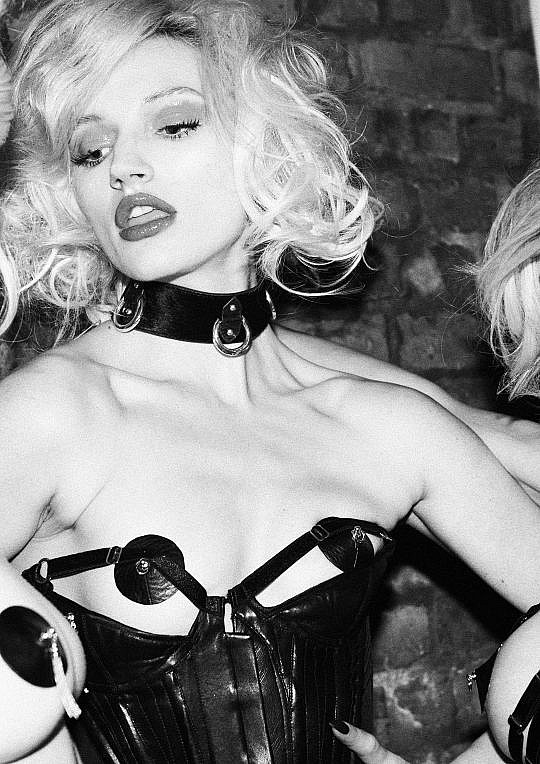 Crediting her fashion buyer sister as the link who helped her in sourcing a manufacturer to help produce such heavy duty leather pieces, as with all of her corsets it was imperative that the factory continued to hand produce each piece ensuring high quality control and the 'fine crafted' finish so many competitors had failed to produce.
Aware of customer demand from her personal retail experience—the fixtures people bought and features clients requested, the Sian Hoffmann corset line and The Model Traitor luxury accessories range has enjoyed lasting longevity among international stockists Coco De Mer, A Child of The Jago, Pleasurements, Museum of Sex, Narcisse and Xensis.
'When we are talking whips—I also produce much harsher ones—canes and leather floggers in which I encouraged my partner at the time to make, as I wanted to have a complete range of BDSM equipment with an artisan quality. The idea was to produce a luxury product, something beautiful and sensual, that would last. I found the products that my competitors were producing didn't look very sexy and could also be quite intimidating for a BDSM beginner. Especially as a woman, I think the designers I knew of were quite male focused, and I wanted something that was more feminine, chic and elegant.
The fusion of her artistry within this space has in modern times unintentionally lent itself toward the fashion space. A style juxtaposed by mainstream fashion magazines, dominatrix and sex workers, she enjoys the best of both worlds, arguing that 'whilst my designs really have nothing to do with the fashion world, I guess it has come full circle—and although it is nice to have that cross through, I just want to make the point that it does come from a slightly darker place'.
Behind closed doors, Sian's customer base has its mixture of male and female clients. For the husband, the wife, for private use, or to wear to the fetish club—London's famous Torture Garden for example. Her clients seeking the structure, comfort and finish of leather versus a PVC product which is structurally more healing to the body.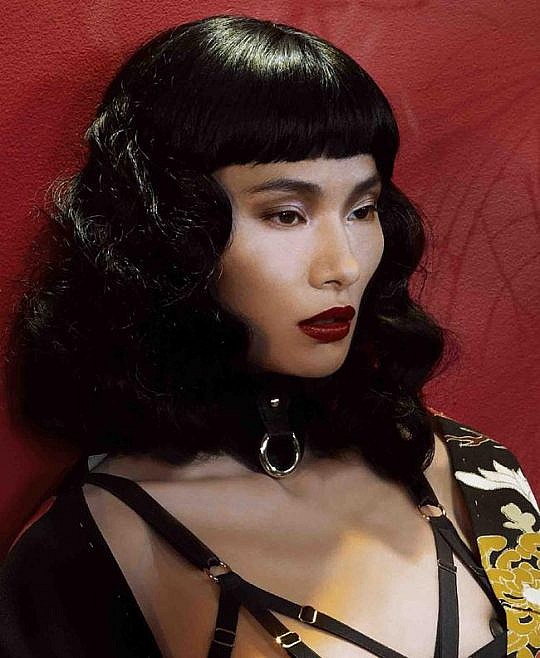 'For me it's really taken years, I don't think I'll ever stop learning. I really do enjoy the making process, and whilst the sewing can be tiring, the pursuit for perfection in my artistry and the thirst for achieving the perfect silhouette with comfort and confidence from the wearer, never goes away. In an era when everyone wants everything quickly and cheaply, dedication to corsetry shows one is patient enough to take the time to let it happen—and that is in itself is a beautiful notion. Seeking beauty, pleasure and true intimacy in a world that goes too fast! I continue to make all of the Sian Hoffman corsets individually and I have my factories hand machining the heavy duty leathers which would be impossible for me to put a pin through'.
To work with an artist that is not only a leader in her field but remains humble, kind and generous deserves along with industry applause, a feature of my leather loves—for my brand is stronger and more valuable because of both Sian Hoffman and The Model Traitor!
I invite you to discover the work for yourself in the stunning visual feature of Sian's incredible creations!
Xx mike
https://chooserealleather.com/mike-adler/leather-behind-closed-doors/