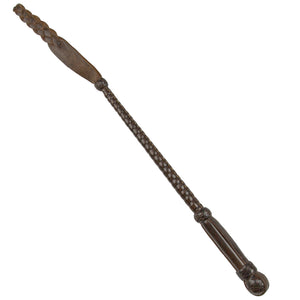 Antique Solid Shaft Riding Whip UNIQUE*
Regular price
$242.00
$0.00
Unit price
per
This unusual whip measures 50cm in length and has a solid shaft that is adorned with an elaborate woven antique brown leather covering showing perfect stitching. 
The business end of the crop is finished with a very unusual, one piece braided thong. The thong is longer than normal for a crop of this age and the beauty of this is that when it comes in to contact with subservient flesh is emits a very satisfyingly onomatopoeic "thwack".
Another distinguishing feature of this crop is that its handle has a wrist strap made of leather that is held in place with two beautifully executed leather Turks Head knots one of which slides down the handle to release the wrist strap; an exquisite detail.  The crop is in original and perfect condition.
Every part of this crop shows that it was manufacture lovingly by an artisan whip maker who paid devoted attention to every detail of its design. This item will ornament any Masters collection of BDSM implements of discipline.
Only one available
---
Share this Product
---